Nat-Sem was a Human male Jedi Master who served the Jedi Order during the final era of the Galactic Republic. After taking Roan Shryne as his Padawan, he was killed in the Battle of Geonosis, the first battle in the Clone Wars, a galactic conflict between the Republic and the Confederacy of Independent Systems.
Biography
Edit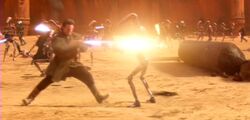 A Force-sensitive Human male, Nat-Sem was brought to the Jedi Temple on Coruscant. During his life in the Jedi Order, Nat-Sem learned the ways of the Force and would later attain the rank of Jedi Master. During his time in service to the Republic, Master Nat-Sem selected the young Roan Shryne as a Padawan, training him in the ways of the Force as he had been taught when he was an youngling. Traveling the galaxy together, Shryne eventually learned all he could from Nat-Sem and passed his own Trials before becoming a Jedi Knight.[2]
Going their separate ways during the time of the Separatist Crisis occurred, Nat-Sem and Shryne joined Master of the Order Mace Windu's strike team of 200 Jedi. Their mission was to rescue Obi-Wan Kenobi, Anakin Skywalker, and Senator Padmé Amidala from the Separatist Alliance. Master Nat-Sem and his former apprentice fought side-by-side in the Petranaki Arena against the Separatist Droid Army. Fighting bravely alongside members of the Jedi High Council and their Jedi comrades during conflict, Nat-Sem was overwhelmed by the sheer number of Battle droids and succumbed to blasterfire after Master Windu decapitated the Mandalorian bounty hunter Jango Fett, the genetic template for the clones that would form the bulk of the Grand Army of the Republic during the Clone Wars.[2]
Appearances
Edit
Notes and references
Edit
Ad blocker interference detected!
Wikia is a free-to-use site that makes money from advertising. We have a modified experience for viewers using ad blockers

Wikia is not accessible if you've made further modifications. Remove the custom ad blocker rule(s) and the page will load as expected.